Modern kitchens tend to have built-in appliances. You are here because you want to upgrade your kitchen or have realized the benefits that built-in microwaves have. Either way, you must be curious to know the top 10 best built-in microwaves in 2023. The more space you have in your kitchen the better. Built-in microwaves will help you achieve this. That is why they are especially recommended for small-sized apartments and kitchens alike.
List Of Best Built-in Microwave Reviews 2023:
10. Frigidaire FFMO1611LB1.6 Cu. Ft. Black Built-In Microwave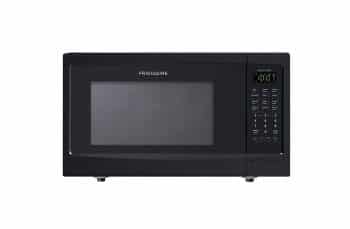 By: Frigidaire Built-in Microwaves
Frigidaire has the first built-in microwave on our list. If you are looking for a black microwave, you are in luck. Aside from it having a décor-friendly look to it, its capacity is quite reasonable. The microwave is 1.6 cu. ft. The benefit you get from owning this is an extra-large cooking space. It has the capability to hold almost any dish. You will even be able to fit a 13″ x 9″ baking dish inside it. This built-in option has one-touch buttons which are easy to operate. Literally, anyone will be able to make popcorns or baked potatoes. If you want to add more time for your food to get ready, a touch of a button is what it will still take.
Additionally, you will also get sensor one-touch options. The sensor options ensure that the microwave is able to adjust its power levels automatically. Cooking a variety of meals is made possible since it can also adjust the cooking times. One of my favorite features of this microwave is its two-speed ventilation. It works at an optimum level thanks to its two-speed fans. You will be able to program cooking times in advance. Having a microwave which will allow you to customize it as per your cooking needs is definitely a plus.
9. Panasonic NN-SD681S Countertop/Built-in Microwave with Inverter Technology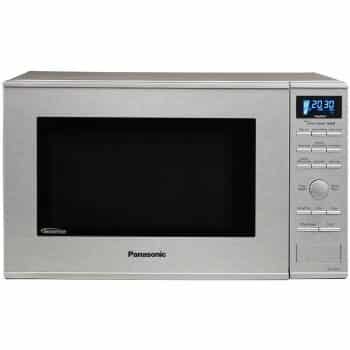 By: Panasonic Built-in Microwaves
The Panasonic NN-SD681S comes with a programming icon dial. The dial alongside its buttons, make programming it quite easy. The microwave has an LED display with elegant 4-digit blue readout. It consumes 1480W but produces 1200 W of power. It has automatic cooking settings, which include reheating. One-touch genius sensor cook is another automatic feature which you will find extremely convenient. A keep warm button is included in its design as well. This feature works for approximately 30minutes. What makes this microwave popular is the fact that it has a lot of user-friendly and considerate features.
One of these features is on its upper left-corner door. To enable the user to smoothly open the door, a small indentation was put on the door. The microwave has up to 14 auto cook options, catered for your favorite types of food. It has a turbo defrost feature which works quicker and more evenly than that of other microwaves. This is thanks to the inverter's continuous-power and the microwave sequencing system it utilizes. You no longer have to wait for long to get yourself stuffed.
8. Frigidaire FGMO205KF Gallery Series 24″ 2.0 cu. ft. Capacity Built-In Microwave
By: Frigidaire Built-in Microwaves
Once again we have a spectacular built-in microwave oven from Frigidaire. This one is a 24inch alternative which has a 2.0 cu. ft. capacity. This make is more advanced and comes with up to 30 multiple settings. From cooking to snack preparation, it's got you covered. I would recommend this microwave for bigger families, or for applications which a lot of food will be involved. Just like the one we discussed earlier, it also has sensor cooking options. The Frigidaire FGMO205KF microwave has a total of 5 sensor cooking options.
The cooking options include chicken breast, Fish/Seafood, rice, Ground Meat, and frozen entrees. The microwave has a baked potato button, chicken nuggets button, snack button, popcorn button, and a reheat button as well. It comes with a total of 3 auto cook options. The auto options are; beverage, pizza, and hotdogs. You will also get 4 auto melt/soften options. These include: Soften cream cheese, soften ice cream, melt chocolate, and melt butter.
7. Panasonic NN-SN686S Countertop/Built-In Microwave with Inverter Technology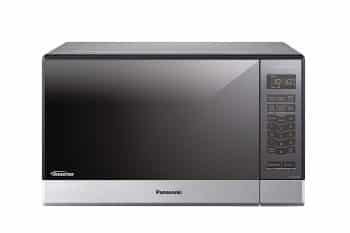 By: Panasonic Built-in Microwaves
For a slightly smaller built-in microwave, this Panasonic NN-SN686S microwave is a great option. You will fully come to appreciate the Patented Inverter Technology because of it. The way it ensures that the food's flavor and texture are reserved is remarkable. You can tell the difference simply by taste when you compare it to your previous microwave. The cooking is so precise that even low settings will not hinder the final outcome. The microwave also has a popcorn key, Quick Minute, More/Less Control, and a Delay/Start timer feature.
In terms of quality, you are dealing with the best there is. Not only will that but the microwave is also compliant with 2016 DOE Energy Conservation Standards. This means that this specific appliance was designed not to skyrocket your energy bills. The microwave has a membrane keypad. Along with its 5 menu button, you will find it quite easy to program. It has a push-button door release for ease of operation and 14 Preset Auto Cook Menu Items.
6. Panasonic NN-SD945S Countertop/Built-In Microwave with Inverter Technology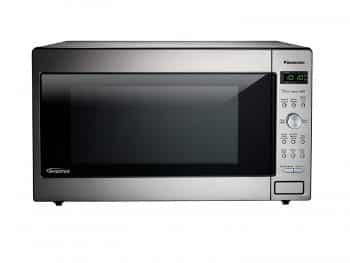 By: Panasonic Built-in Microwaves
Once upon a time, people often debated whether or not to get large capacity microwaves because of their size. Panasonic's innovativeness set out to change this. Although this built-in microwave has a large interior, it looks very compact on the outside. You wouldn't be able to tell that it was 2.2 cu. ft. in capacity, when you compare it to older models. It occupies minimal space while fulfilling the needs of your large household. It looks smaller, uses energy efficiently and has lighter control units. The control units weigh less by up to 8lbs, against conventional microwave components.
The microwaves controls have a sleek look to them and bring out a high-end appearance. It has a four digit display and pre-programmed quick buttons. For the sake of your child's safety, the microwave has a child safety lock. So you can get some peace of mind even when you see them approach it. This Panasonic NN-SD945S Countertop is compatible with trim kits for 30 inch and 27-inch cabinet openings.
5. Frigidaire FGMO205KF Gallery Series 24″ 2.0 cu. ft. Capacity Built-In Microwave Oven 1200 Watts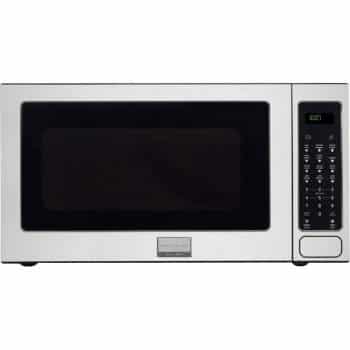 By: Frigidaire Built-in Microwaves
How many Auto Defrost options did your previous microwave have? The Frigidaire FGMO205KF comes with 6 of them. These include; Casserole Soup, Chicken Pieces, Roast, ground meat, steaks, chops, and fish. The microwave also 3 auto reheat options. The options are Pasta, fresh rolls, and frozen roles. It was designed to meet the needs of every single member of the family. It even has snack menu options for the kids. The options range from hand-held snacks, chicken nuggets, to frozen kids meals. The value for money here is just unbelievable.
4. FPMO209RF | Frigidaire Professional Built-In Microwave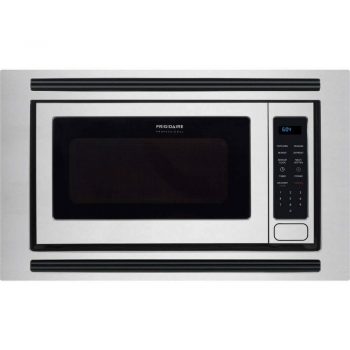 By: Electroluxs Built-in Microwaves
Every woman out there wants their kitchen looking sparkling. Appliances which are easy to clean make it easier to achieve such levels of cleanliness. However, Frigidaire went a step further when designing this model. The built-in microwave was constructed with stainless steel which is smudge proof. You will not waste any of your valuable time, trying to wipe away smudges. This feature makes it almost effortless to clean up the microwave.
PowerSense™ Cooking Technology was also incorporated into the microwave's design. That is how the microwave is able to sense ideal power levels and cooking time thanks to the technology.
3. Farberware Best Built-in Microwave Stainless Steel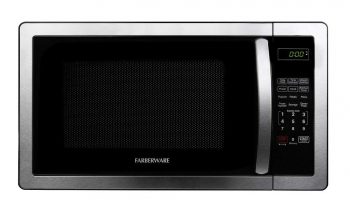 By: Farberware Built-in Microwaves
Farberware appliances are well-known for the way they enhance people's cutlery experiences. With 1000W of cooking power, this 1.1 Cubic Foot will be a great addition to your small apartment. Making custom-cooked meals will not be a problem. In fact, you can even use it for a custom-cooked snack as well. These types of customization are made possible thanks to its 10 power levels. You will easily be able to adjust the microwave's power from 10% to 100%. It also has 1 through 6-minute Express Cooking quick start controls.
2. Panasonic NN-SD745S Countertop/Built-In Microwave with Inverter Technology
By: Panasonic Built-in Microwaves
Panasonic welcomes you to a world of speedy cooking. This is one of the two fastest microwaves in this review. This microwave also has advanced inverter turbo defrost, which is able to defrost with remarkable speed. The dimensions of the microwave cavity are (H x W x D) 9 x 16 7/16 x 18 1/2 inches. The entire unit, however, measures (H x W x D) 11 15/16 x 21 7/8 x 19 15/16 inches. Even cooking is guaranteed as all Panasonic appliances live up to their high reputations.
1. Frigidaire FGMO205KB Gallery 2.0 Cu. Ft. Best Built-In Microwave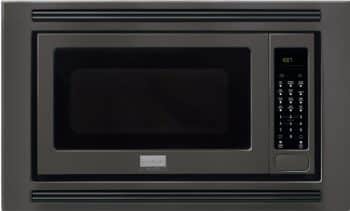 By: Frigidaire Built-in Microwaves
For decades Frigidaire has established itself as a trustworthy commercial home appliances brand. As you have seen throughout this review, the company has acquired several positions. This comes to show that they are truly one of the industry's finest brands. The number one position goes to the Frigidaire FGMO205KB. The microwave is a high capacity option which comes in black color.
It is one of the most reliable microwaves on this review. The company even boasts of getting the lowest number of service calls for their microwaves. It has an audible signal feature as well. You have the option of either having the signal on or off.
What to consider when buying a built-in microwave?
Why you need a built-in microwave?
To wrap it up:
We trust that you already have a few options in mind, regarding which built-in microwave to buy. As you have noticed by now, some of them are able to serve as countertop microwaves as well. Choose wisely and in case of uncertainty, be sure to go through this top 10 best built-in microwave review again.