There are many wireless Bluetooth earbuds on the market as of now. The demand for the said sets is high and grows by the day. Cheap manufacturers have taken advantage of this. They make sets that are damaged easily. So many people fall into this trap and end up disappointed. As such, we have made this list to help you in selecting the best set for you. We have selected brands that we have used, are known to be reliable and provide value for money. If you decide to go for some cheaper versions, it could be a way to lose your money easily.
List Of Best Wireless Bluetooth Earbud Reviews 2020:
10. Airmate Ultra Mini Wireless Bluetooth Earbud 4.0 in-Ear
By: Airmate Wireless Bluetooth Earbuds
We start our review with the Airmate wireless Bluetooth earbuds. This is the only true, completely wireless earbuds on this review. There is a good reason we do not pick more of these types and that is mainly because of the charge. We mean, it has a very small battery at only 50 mah. With it, you can only get about 3.5 hours of music playback. Partly wired alternatives usually ping around 8 hours of music playback.
Nevertheless, if this is a sacrifice you are willing to make, you can do some stealth listening. It is difficult for other people to know you have them on. The development of these types of entirely wireless earbuds cannot compete with the slightly wired version. However, these are some of the best in its category.
9. Mpow Cheetah Wireless Bluetooth Earbud- V4.1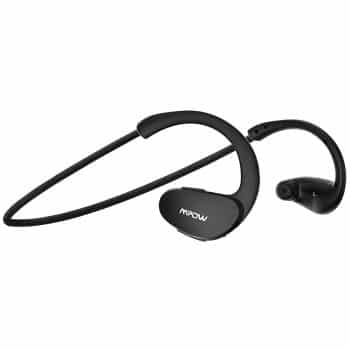 By: Mpow Wireless Bluetooth Earbuds
The Mpow Bluetooth earbuds are tailor-made for the fast action athlete. The talking point about this set is how malleable the frame is. You can roll it into shape to store neatly in your pocket, or around your neck. They conform to the shape you want and hold tight. On top of this, it has some wonderful features such as the long battery life that delivers an impressive 8 hours of talk time. It is compatible with all manner of Bluetooth devices in the market. Whether a droid or an iPhone, it does not matter.
8. Anker SoundBuds Slim Wireless Bluetooth Earbud 4.1, Stereo IPX5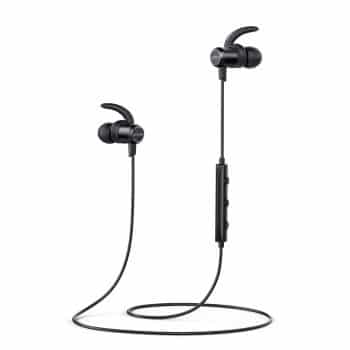 By: Anker Wireless Bluetooth Earbuds
Unlike the typical wireless Bluetooth earbuds, Anker elected to make some that can accommodate people from all walks of life. To demonstrate this, they are built for the athlete with their accessories that ensure they stay in place while partaking of strenuous activity. It is surprising how affordable they are with all the features included. It also contains a magnetic type earbuds. With them, you can wear them as an accessory around your neck at the same time ensuring your investments is secure. This is a worthwhile purchase for those looking for a little bit of everything.
7. Anker SoundBuds Curve Wireless Bluetooth Earbud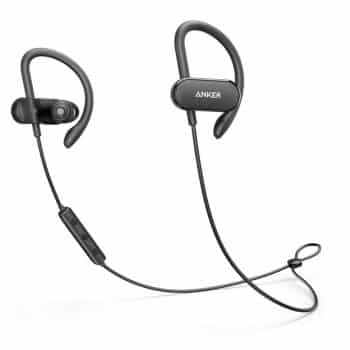 By: Anker Wireless Bluetooth Earbuds
The selling point about these settings is how it delivers up to 14 hours of music playback. Furthermore, with only 10 minutes of charging, you will be able to squeeze 1 hour of music out of it. Still, this feature does not take away from it its other fantastic features. It is not sweat proof, but waterproof. This can be attributed to the impermeable nano-coating and a water-resistant casing. The audio is top-notch, thanks to the superior software and excellent noise cancellation features. It also comes with all manner of accessories in the package.
6. Flexion KS-901 Kinetic Series Wireless Bluetooth Headphones Noise Cancelling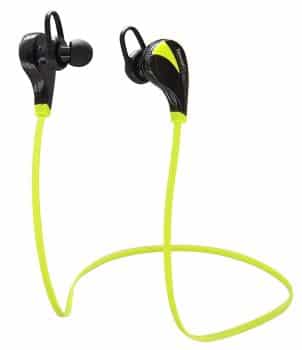 By: Flexion Wireless Bluetooth Earbuds
Flexion resolved to provide the basics in this set. They do not have all these features from high-end manufacturers such as music control on the cable itself. However, you still get excellent audio with its Bluetooth 4.0 functionality. Everything except music quality, which in the first place is most important, is stripped down. The end consumer can feel the effect of this. You will not feel your wallet pinch when you buy this set. Nonetheless, you will experience good quality audio.
5. Wireless Bluetooth Earbud Hussar Magicbuds Best Wireless Sports Earphones with Mic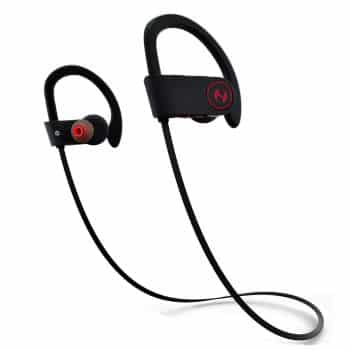 By: Hussar Wireless Bluetooth Earbuds
These Hussar wireless Bluetooth earbuds narrowly miss the number one spot. They are an improvement from the previous and excellent 2017 version. That means a lot, and to surpass their previous, limit-pushing version is quite an achievement. Just like before, this set has excellent waterproof functionalities. The design is unique and quite functional, as we have come to be accustomed to Hussar sets. Nonetheless, the main difference with this set is their upgrade in the audio department. The sound is even much louder and the bass is boosted to your liking, much more than ever before.
4. Phaiser BHS-730 Bluetooth Earbuds Runner – Best Wireless Bluetooth Earbuds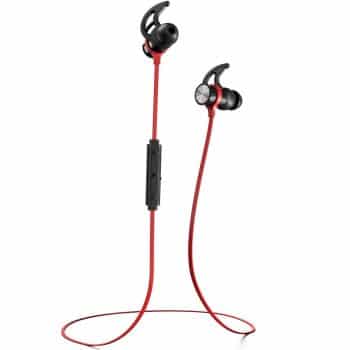 By: Phaiser Wireless Bluetooth Earbuds
Lastly, we finish our review with the Phaiser Bluetooth earbuds. Even though marketed as the best for athletes, even ordinary folk will find it useful. It is hard to fault this set. For example, it has excellent water resistant features. In the nearly impossible case, it is damaged by water, Phaiser will replace your set for free. No questions asked. This set combines wonderful design, with powerful software for a set everyone will love to have.
3. SENSO Best Wireless Sports Earphones
By: SENSO Wireless Bluetooth Earbuds
These are excellent Bluetooth headphones boasting the latest and most advanced features. First, the headphones boast an advanced construction making it perfect for all users. The headphone delivers an excellent acoustic sound ensuring that you experience the best listening. Additionally, the incredible sound quality combines deep base and clear treble thus offering unsurpassed performance. Another thing, the product offers a snug fit thus ensuring that you are comfortable.
The excellent waterproofing design makes it ideal for use in all weather conditions. Another thing, the soft silicone Earbuds make it comfortable and perfect for long uses. This product also features an excellent Bluetooth functionality making it ideal for most users. It offers seamless connection to Bluetooth devices for a great music experience.
2. Wireless Bluetooth Earbuds5.0 True Wireless Bluetooth Earbuds
By: ENACFIRE Wireless Bluetooth Earbuds
Offering a single-step paring technology, this is yet another incredible product designed to offer a great performance. This Bluetooth headphone delivers immersive listening with crystal clear sound quality. Furthermore, the product offers seamless Bluetooth connectivity thus ensuring that you have a great listening experience. The single click power button also makes it a convenient product to use.
This is a truly wireless device offering connectivity up to 33 feet away from the source. The seamless wireless connection makes it even better and convenient for use.
1. PASONOMI Wireless Bluetooth Earbuds
By: PASONOMI Wireless Bluetooth Earbuds
This is an excellent Bluetooth headphone designed to deliver excellent sound quality. The advanced design makes it an ideal product for most people. Furthermore, this product boasts a tough waterproof construction which makes it ideal for use in different places. Additionally, the excellent Bluetooth connectivity makes it a real wireless device.
What to consider when buying Wireless Bluetooth Earbuds?
Why you need a Wireless Bluetooth Earbuds?
To wrap it up
Wireless Bluetooth earbuds have improved a lot recently. Day in day out we see new versions with different features all the time. For this reason, this list will be updated constantly. However, if a set happens to find itself on this list, you can be sure that it will stand the test of time. The user will not have to worry about running for the next best set for a long time. Sadly, this is not true for most other sets on the market today.